Humans and chimpanzees share 96% of the same DNA. In other words, from a scientific perspective, humans and chimpanzees are genetically very similar. As the battle between evolution and intelligen...

Today I learned how cats and dogs drink water. The water sticks to their tongues and the upward pull creates a water column from inertia (the liquid continues to move in the direction pulled). Then,...
Today I learned that ostriches do NOT bury their heads in the sand. (People are said to bury their heads in the sand when they refuse to confront or acknowledge a problem.) OSTRICHES BURY TH...

To sustain life, the human body requires nourishment. Such is the "catch-22" - how to sustain life without destroying life? Most (but not all) consider cannibalism as the ultimate cultural taboo, so...

In the movie Extreme Measures, a brilliant doctor attempts experimental surgeries on live patients (who eventually die), trying to find a way to help spinal cord victims walk again. I think most agre...

Today I learned that my parents mislead me when they taught me about the "birds and the bees" - there are over 200,000 species of animals that act as pollinators, and even the wind acts as a pollinat...

Being a veterinarian, I had been called to examine a ten-year-old Irish Wolfhound named Belker. The dog's owners, Ron, his wife, Lisa, and their little boy, Shane, were all very attached to Belker, a...
About braincrave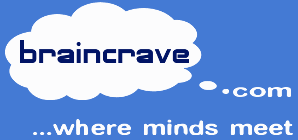 relationships/dating/braincrave
https://braincrave.com/c/relationships/dating/braincrave
braincrave
We all admire beauty, but the mind ultimately must be stimulated for maximum arousal. Longevity in relationships cannot occur without a meeting of the minds. And that is what Braincrave is: a dating venue where minds meet. Learn about the thoughts of your potential match on deeper topics... topics that spawn your own insights around what you think, the choices you make, and the actions you take.
We are a community of men and women who seek beauty and stimulation through our minds. We find ideas, education, and self-improvement sexy. We think intelligence is hot. But Braincrave is more than brains and I.Q. alone. We are curious. We have common sense. We value and offer wisdom. We experiment. We have great imaginations. We devour literacy. We are intellectually honest. We support and encourage each other to be better.
You might be lonely but you aren't alone.
Sep, 2017 update: Although Braincrave resulted in two confirmed marriages, the venture didn't meet financial targets. Rather than updating our outdated code base, we've removed all previous dating profiles and retained the articles that continue to generate interest. Moving to valME.io's platform supports dating profiles (which you are welcome to post) but won't allow typical date-matching functionality (e.g., location proximity, attribute similarity).
The Braincrave.com discussion group on Second Life was a twice-daily intellectual group discussions typically held at 12:00 PM SLT (PST) and 7:00 PM SLT. The discussions took place in Second Life group chat but are no longer formally scheduled or managed. The daily articles were used to encourage the discussions.