Today I learned that, despite the hype, bottled water typically isn't any cleaner or healthier than tap water, and often comes from the same public water supply that your tap water does. Having said...

Today I learned that the accepted wisdom of drinking eight glasses of water a day, including the accompanying reminder that beverages containing caffeine and alcohol do not count, is not supported by...

Quis custodiet ipsos custodes (aka who watches the watchmen)? Called Colony Collapse Disorder, there is something killing honeybees. They are dying in "huge numbers." Scientists from the US Environ...

Today I learned that you should not use olive oil to cook at high heats (i.e., potentially anything over 200 - 250º F / 93 - 121º C, although that is debated), especially extra virgin olive oils. T...

Today I learned that cranberries are sorted for ripeness by being bounced. First discovered by a man with a wooden leg who had a hard time getting the berries down from a loft, he poured them down th...

To sustain life, the human body requires nourishment. Such is the "catch-22" - how to sustain life without destroying life? Most (but not all) consider cannibalism as the ultimate cultural taboo, so...
Today I learned that the US government ordered a farmer to destroy his own crops in order to increase market prices. The case, Wickard v. Filburn, went to the US Supreme Court, and the court sided wi...

Whether you're a moral relativist or absolutist, and based on whatever standards you choose, there are actions that you think are immoral. What is morally contemptible to you now might have been comm...

John Lennon composed and sang "Imagine... no need for greed or hunger." Billions of people starve. Death and suffering from starvation are clearly global problems for which there aren't any clear sol...

Cancer. I hate this disease. My sister was diagnosed with it at about age 5. She, along with my mother, father, and I, spent the next 16 years in and out of hospitals getting treatments that, arguabl...

From Reader's Digest... Why do the lobbyists always win? Why does the political system even allow lobbyists to exist? Why are farm subsidies even allowed? Does this occur in other countries? FTA:...

From the "you can't make this crap up" file... Of course, the European government is focused on solving the most pressing problems that individuals face. After all, it's always been such a "crime" th...

The owner of a Connecticut pizzeria, accused of violating state child labor laws by having his kids work in the restaurant, is suing the state on grounds the laws violate his constitutional rights. I...
The New York legislature is trying to pass a bill that would ban restaurants from using salt in food preparations. No, this is not an article from The Onion. No, I am not making this up. Chefs Cal...
About braincrave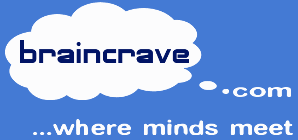 relationships/dating/braincrave
https://braincrave.com/c/relationships/dating/braincrave
braincrave
We all admire beauty, but the mind ultimately must be stimulated for maximum arousal. Longevity in relationships cannot occur without a meeting of the minds. And that is what Braincrave is: a dating venue where minds meet. Learn about the thoughts of your potential match on deeper topics... topics that spawn your own insights around what you think, the choices you make, and the actions you take.
We are a community of men and women who seek beauty and stimulation through our minds. We find ideas, education, and self-improvement sexy. We think intelligence is hot. But Braincrave is more than brains and I.Q. alone. We are curious. We have common sense. We value and offer wisdom. We experiment. We have great imaginations. We devour literacy. We are intellectually honest. We support and encourage each other to be better.
You might be lonely but you aren't alone.
Sep, 2017 update: Although Braincrave resulted in two confirmed marriages, the venture didn't meet financial targets. Rather than updating our outdated code base, we've removed all previous dating profiles and retained the articles that continue to generate interest. Moving to valME.io's platform supports dating profiles (which you are welcome to post) but won't allow typical date-matching functionality (e.g., location proximity, attribute similarity).
The Braincrave.com discussion group on Second Life was a twice-daily intellectual group discussions typically held at 12:00 PM SLT (PST) and 7:00 PM SLT. The discussions took place in Second Life group chat but are no longer formally scheduled or managed. The daily articles were used to encourage the discussions.