For those of you who aren't familiar with it, StumbleUpon is a discovery engine that shows you random web pages based upon categories that you like. It learns very quickly what you like and don't like. It's channel surfing for the web. If you're interested in discovering the hidden gems on the web, including new ideas, articles, pictures, videos, music, games, etc., StumbleUpon is a must-have. (Although, be warned: StumbleUpon is highly addictive and you will often find yourself spending hours using it.)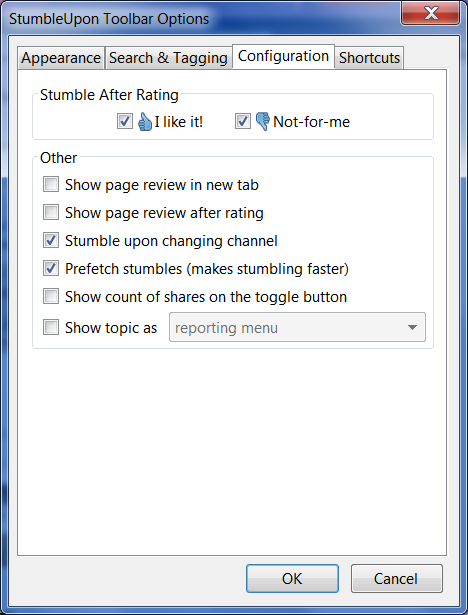 StumbleUpon has a toolbar plug-in for Firefox that is a must-have. For the longest time, I would click the Stumble button to bring up a random, new page, upvote it or downvote it, and then repeat the process. It requires two clicks as well as moving the mouse between the buttons.
However, today I learned that, within the toolbar's options and on the Configuration tab, there are two Stumble After Rating settings that you can check to automatically stumble to the next page after clicking an upvote or downvote. Not only does this save you a click but it also saves you the effort of moving the mouse to the Stumble button.
What did you learn recently?
DISCUSS!
Original posting by Braincrave Second Life staff on Apr 19, 2011 at http://www.braincrave.com/viewblog.php?id=532