As proud supporters of Creative Commons, we were encouraged to see so many websites effectively shut down or "go dark" on January 18, 2012 in protest of the tyrannical SOPA/PIPA bills that the US gov...

Throughout history, machines, tools, devices, etc. have become smaller. But not until recently have we been able to see down to the lowest level - to that of the nano. With electron microscopes, nano...

As many mourn the death of Apple founder Steve Jobs, they use words such as visionary, brilliant, innovative, leader, entrepreneur, capitalist, and philanthropic to describe him. Many aren't aware th...

Just when you thought you understood how the world works, the tachyons come to shake things up. For those who haven't heard by now, the masterminds at CERN who brought you the LHC rap have made wh...

No significant intellectualism here in this video. Just an older couple learning how to use a computer to make you feel good. May we all be as happy as they are at this age. What's your experie...

Today I learned the first PC virus was called "brain" and was written in DOS only 25 years ago in 1986. The creators of the virus even gave their address. How did it move from PC to PC? Floppy disks...
Today I learned that there is a "paper" in production that can be erased and reused 260 times and currently costs about $2.00/sheet. (And we all know that, just like with any technology, that price w...

From the "you can't make this shit up" files... Statists have plenty of bad ideas: going to war for oil, setting up regulatory agencies that don't do their jobs, molesting people in the name of se...

Today I learned about Pale Moon - an optimized version of Firefox that is much faster than Firefox and optimized specifically for Windows. Not only is it much faster than Firefox (perhaps even by...

Today I learned that you can run a diesel engine car on waste vegetable oil (e.g., oil that's been used to cook). It is less harmful to the environment, less toxic to people and animals, and runs abo...

From a WoW forum: Original post: "So many trolls be trolling....thugs be thugging....haters be hating.... I love everyone on this server Spread the love." Reply post: "Homo." Sarcasm aside,...

When it comes to protecting civil liberties, it just keeps getting worse. The US Department of Homeland Security (DHS) is now testing what it calls Future Attribute Screening Technology (FAST). It i...

Today I learned the power of the scroll wheel in Firefox. You can use it to close tabs (click the scroll wheel on a tab), open hyperlinks in new pages (click the scroll wheel on a link), scroll throu...

When I was much younger, I told my father I believed I would live forever. He asked how that would happen and gently reminded me that we all die sooner or later. I explained that I believed we would...

Today I learned about the Ig Noble prizes, which "honor achievements that first make people laugh, and then make them think. The prizes are intended to celebrate the unusual, honor the imaginative -...

For those of you who aren't familiar with it, StumbleUpon is a discovery engine that shows you random web pages based upon categories that you like. It learns very quickly what you like and don't lik...

"Gamers are super-empowered hopeful individuals." They are masters at figuring things out, even medical problems. So who wants to use gaming to change the world? There are many problems to address...

Recently, Harvard University had a panel discussing the legacy of the Human Genome Project. Started in 1990, and with scientists from six countries and initial funding of $3 billion, the project publ...

Put on your tinfoil hats for this one. We recently saw that a country's government can easily and quickly shut down the internet. In a classic rope-a-dope, as Hillary Clinton babbles propaganda about...

Today I learned that Hong Kong gets 1 Gbps broadband service for $26 a month while the FCC tries to LEGISLATE an "ambitious" goal of 100Mbs. Perhaps it's time to get rid of the wankers at the FCC? (I...

The folks at the Venus Project and the larger Zeitgeist movement think society has many problems, and they are concerned. Hard to disagree. When a doctor is trying to cure what ails you, he'll typica...

You've just got to love science... one of the great things about science fiction is how quickly it becomes non-fiction. Putting aside the potential for Skynet or I, Robot, imagine for a moment artifi...

Talk about "mind=blown." Imagine a world where you can manipulate objects solely with your mind. It's here, it's now, and it's incredible. Consider every industry. Consider every skill. Consider ever...

In his famous treatise On the Duty of Civil Disobedience, Henry David Thoreau argued that individuals can promote justice by disobeying the law. History is replete with examples of civil disobedience...

Today I learned that AT&T will send you a free microcell/femtocell (and maybe even a free phone) for use in your home if you can't get a good signal for your mobile phone. Submitted by one of our...

Today I learned how to increase the wireless signal of my router. Say goodbye to your wireless signal dropping! FTA: 8. Make a Reflector with Tinfoil. Note that a tinfoil router may boost you...

Governments love to pander equality and anti-discrimination laws (well, granted - they were for discrimination before they were against it). Their latest villain? The Internet Service Providers (ISP)...

Wait - you're upset because the government promised you something and then did the exact opposite? This is government's modus operandi - why all the fuss? Look, just vote for the other party next tim...

Transcranial magnetic stimulation (TMS) is a process of stimulating the brain with magnetic fields that changes/disrupts the way the neurons work. Is it possible to use TMS to unlock "hidden" cogniti...

In his prophetic novel 1984, George Orwell described a facecrime: "It was terribly dangerous to let your thoughts wander when you were in any public place or within range of a telescreen. The smalles...

Technology is so grand. With the research from this experiment, we might finally be able to replace the lowest form of humans - politicians - with robots. After all, if you can teach robots to lie, t...

What does it mean to be human? Transhumanists want to use technology to enhance the human body. What are the ethical considerations for enhancing human biology with technology? Are we less human with...

Nuclear energy was discovered in the context of war (specifically World War II). In the 1950s, the US Air Force tried to come up with an idea of putting a nuclear reactor on an airplane to keep it ru...

Are we giving children too much structure when attempting to educate them? Would children improve their ability to think if we gave them a few tools and let them self-organize with minimal adult supe...

If you're really concerned about future generations, shouldn't there be other, more important priorities that one would be focused on instead of building a "doomsday ark" on the moon? Is this really...

Is this a brilliant idea that will make the world a better place to live, or a disaster waiting to happen? Can someone loan me $200,000? Come on - you know you want one! Everyone sing with me! Chitty...

Is there any circumstance in which the government should be a gate-keeper of information? What are the benefits of holding back information vs. letting information flow freely? FTA: "In a recent c...

Why is the US government trying to pass a law that creates a "kill switch" to shut down the Internet at its whim? What are they preparing for? What is it that is about to happen? FTA: "A new U.S....

FTA: "...no company or person has the right to tell you that you may not do what you like with your own property. Let us say that you bought a hammer. The hammer is clearly designed for hitting nails...
Wow - this is a great win (though I expect it will never make it through the appeal process). File-Sharing and Link Sites Declared Legal in Spain FTA: "After early calls to shut down a Spanish...
How to reboot your corpse FTA: THE GIST: * The idea is to freeze legally dead people in liquid nitrogen in the hope of regenerating them at some future date. * Nanorobots that can repair the...

People continue to be laid-off from their jobs. Automation is increasing. Things made by hand are decreasing. The costs to produce (copy) some items is very close to zero (e.g., music and books)....

Some simple mechanisms explained... pretty cool DISCUSS! Original posting by Braincrave Second Life staff on Jan 16, 2010 at http://www.braincrave.com/viewblog.php?id=83
What do you all think about the development of the transhumanism movement? I am shocked to say that the reason the unibomber did what he did was to wake up the masses to this kind of technological de...

Assuming this is all true (which I haven't confirmed), what are the implications? Did You Know? (5-minute video) That is certainly mammoth amount of change in a short period of time. D...
About braincrave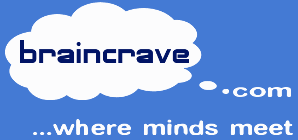 relationships/dating/braincrave
https://braincrave.com/c/relationships/dating/braincrave
braincrave
We all admire beauty, but the mind ultimately must be stimulated for maximum arousal. Longevity in relationships cannot occur without a meeting of the minds. And that is what Braincrave is: a dating venue where minds meet. Learn about the thoughts of your potential match on deeper topics... topics that spawn your own insights around what you think, the choices you make, and the actions you take.
We are a community of men and women who seek beauty and stimulation through our minds. We find ideas, education, and self-improvement sexy. We think intelligence is hot. But Braincrave is more than brains and I.Q. alone. We are curious. We have common sense. We value and offer wisdom. We experiment. We have great imaginations. We devour literacy. We are intellectually honest. We support and encourage each other to be better.
You might be lonely but you aren't alone.
Sep, 2017 update: Although Braincrave resulted in two confirmed marriages, the venture didn't meet financial targets. Rather than updating our outdated code base, we've removed all previous dating profiles and retained the articles that continue to generate interest. Moving to valME.io's platform supports dating profiles (which you are welcome to post) but won't allow typical date-matching functionality (e.g., location proximity, attribute similarity).
The Braincrave.com discussion group on Second Life was a twice-daily intellectual group discussions typically held at 12:00 PM SLT (PST) and 7:00 PM SLT. The discussions took place in Second Life group chat but are no longer formally scheduled or managed. The daily articles were used to encourage the discussions.