Administrator's Introduction: The Greek philosopher Epictetus believed that only the educated are free. With that in mind, BrainCrave.com is more than just bringing people together for dating - it's...

There are different forms of intelligence. Creativity and artistic abilities are excellent indicators of intelligence. But earning a living as an artist is difficult, especially given today's economi...

Once upon a time, in a land far away which has nothing at all in common with the world we humans inhabit, a horse was running free in the plain. He longed to climb up the mountains and see the world...

When I was much younger, I told my father I believed I would live forever. He asked how that would happen and gently reminded me that we all die sooner or later. I explained that I believed we would...

I recently read "Conservatives Freak Out Over MTV's "Skins" -- Teenagers Have Sex. Get Over It." posted at the liberal blog AlterNet. If you have any question as to why kids, especially teenagers, ha...

Randolph Bourne warned us that "war is the health of the state." So how does the state keep healthy? By declaring wars on everything. The war in Afghanistan is a disaster. The war in Iraq is a disast...

Who's Ayn Rand?? Only one of the most well-known and life-changing philosophers out there. Her philosophy is unlike any most have ever read. It's philosophy mixed in with drama and lots of great sex....

This challenge arose from a discussion in a large philosophy venue in which I stated that if ever a really competent intelligent design defender or evolutionist came around, he would blow the philoso...
About braincrave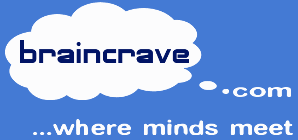 relationships/dating/braincrave
https://braincrave.com/c/relationships/dating/braincrave
braincrave
We all admire beauty, but the mind ultimately must be stimulated for maximum arousal. Longevity in relationships cannot occur without a meeting of the minds. And that is what Braincrave is: a dating venue where minds meet. Learn about the thoughts of your potential match on deeper topics... topics that spawn your own insights around what you think, the choices you make, and the actions you take.
We are a community of men and women who seek beauty and stimulation through our minds. We find ideas, education, and self-improvement sexy. We think intelligence is hot. But Braincrave is more than brains and I.Q. alone. We are curious. We have common sense. We value and offer wisdom. We experiment. We have great imaginations. We devour literacy. We are intellectually honest. We support and encourage each other to be better.
You might be lonely but you aren't alone.
Sep, 2017 update: Although Braincrave resulted in two confirmed marriages, the venture didn't meet financial targets. Rather than updating our outdated code base, we've removed all previous dating profiles and retained the articles that continue to generate interest. Moving to valME.io's platform supports dating profiles (which you are welcome to post) but won't allow typical date-matching functionality (e.g., location proximity, attribute similarity).
The Braincrave.com discussion group on Second Life was a twice-daily intellectual group discussions typically held at 12:00 PM SLT (PST) and 7:00 PM SLT. The discussions took place in Second Life group chat but are no longer formally scheduled or managed. The daily articles were used to encourage the discussions.