As proud supporters of Creative Commons, we were encouraged to see so many websites effectively shut down or "go dark" on January 18, 2012 in protest of the tyrannical SOPA/PIPA bills that the US gov...

Today I learned from "America's worst mom" that the earliest episodes of Sesame Street are "for adult viewing only" for fear they will give kids dangerous ideas (Sesame Street just couldn't bring its...

Aristotle spoke of music as having "influence over the character and the soul." He noted that "Rhythm and melody supply imitations of anger and gentleness, and also of courage and temperance, and of...
Today I learned one of the creators of Superman drew S&M and bondage comics that were banned by the Supreme Court, the creator of Star Trek created a show about a gym teacher having sex with his...

Discussing sports, Noam Chomsky once remarked: "Take, say, sports -- that's another crucial example of the indoctrination system, in my view. For one thing because it -- you know, it offers people so...

For those of you who aren't familiar with it, StumbleUpon is a discovery engine that shows you random web pages based upon categories that you like. It learns very quickly what you like and don't lik...

I recently read "Conservatives Freak Out Over MTV's "Skins" -- Teenagers Have Sex. Get Over It." posted at the liberal blog AlterNet. If you have any question as to why kids, especially teenagers, ha...

On a cold January morning in 2007, a man played six Bach pieces on his violin for 43 minutes as about 1,000 people passed by. He started with one of the most difficult violin pieces in the world to m...

In her interview with Playboy, Ayn Rand stated "My views on charity are very simple. I do not consider it a major virtue and, above all, I do not consider it a moral duty. There is nothing wrong in h...

Many artists are concerned about copying, especially in the online world. It's a significant problem in Second Life where copybots can copy an artist's/owner's content without their permission. This...

Today I Learned that the media can legally lie. FTA: In February 2003, a Florida Court of Appeals unanimously agreed with an assertion by FOX News that there is no rule against distorting or...

Some claim that the reason music piracy is so prevalent is because the cost of music is so high (especially when the actual CD production costs are so low - a cursory look suggests it's less than $0....

Jerry Garcia is famous for saying "And as far as I'm concerned, it's like I say, drugs are not the problem. Other stuff is the problem." As the lawyers at the RIAA claim that copyright law "isn't wor...

FTV: "I don't have to tell you things are bad. Everybody knows things are bad. It's a depression. Everybody's out of work, or scared of losing their job. The dollar buys a nickel's worth. Banks are g...

I bet you didn't think it was possible to fit the 100 greatest movie lines of all time into 200 hundred seconds did you? What are your favorites? FTV: "Yo' Adrian! I did it!" 100 Best Movie Lin...

Is music lobotomizing the brains of youth? Is it purposefully making them "retarded in here?" And if you start singing Black Eyed Peas songs through the end of the day, it's not my fault. FTA: "Ha...

FTA: "In what is being called a new-low in reality television, a Sydney waitress plans to sell her virginity to the highest bidder in a live auction in the US state of Nevada... [The Melbourne filmma...
About braincrave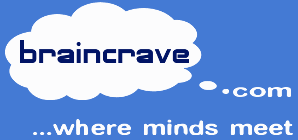 relationships/dating/braincrave
https://braincrave.com/c/relationships/dating/braincrave
braincrave
We all admire beauty, but the mind ultimately must be stimulated for maximum arousal. Longevity in relationships cannot occur without a meeting of the minds. And that is what Braincrave is: a dating venue where minds meet. Learn about the thoughts of your potential match on deeper topics... topics that spawn your own insights around what you think, the choices you make, and the actions you take.
We are a community of men and women who seek beauty and stimulation through our minds. We find ideas, education, and self-improvement sexy. We think intelligence is hot. But Braincrave is more than brains and I.Q. alone. We are curious. We have common sense. We value and offer wisdom. We experiment. We have great imaginations. We devour literacy. We are intellectually honest. We support and encourage each other to be better.
You might be lonely but you aren't alone.
Sep, 2017 update: Although Braincrave resulted in two confirmed marriages, the venture didn't meet financial targets. Rather than updating our outdated code base, we've removed all previous dating profiles and retained the articles that continue to generate interest. Moving to valME.io's platform supports dating profiles (which you are welcome to post) but won't allow typical date-matching functionality (e.g., location proximity, attribute similarity).
The Braincrave.com discussion group on Second Life was a twice-daily intellectual group discussions typically held at 12:00 PM SLT (PST) and 7:00 PM SLT. The discussions took place in Second Life group chat but are no longer formally scheduled or managed. The daily articles were used to encourage the discussions.