In the business world, most workers receive a base salary and then salary increases or bonuses based on performance. Performance can be measured by various factors, including company performance, ind...
James Fenimore Cooper once said: "All greatness of character is dependent on individuality. The man who has no other existence than that which he partakes in common with all around him, will never ha...

Monty Python famously sang "life's a piece of shit when you look at it." There's also the adage that, if everyone threw all their problems on the table, most would reach back down and pick up their...

Today I learned that, contrary to popular belief, a private business owner who made every pair of military business boots for US soldiers in World War I established the 40-hour work week which becam...

The economy is in dire straits. Many adults can't find jobs. The government is lying about employment figures. So why would some politician try to repeal an existing law that would bring more people...

The typical four-year college degree has large costs, but it's questionable whether the benefits are usually there. In fact, students who secure college degrees are increasingly unlikely to make up t...

What do you love? What are your passions? Have any hobbies? Want to make some money from them? With the economy suffering, many continue to look for other income sources. Granted, many of the article...

If we are to believe UNICEF, there are about 158 million children aged 5-14 engaged in child labor, "working in hazardous situations or conditions." Most people give this a scary name like "child ex...

Welcome to the bizarre world of union ideology. Unions are hiring unemployed people at the minimum wage to walk picket lines. (Snicker.) Why aren't they being paid union rates? I personally think the...

It's the typical Catch-22. You can't get hired for a job because you have limited experience, and you can't get experience until you get a job. It appears there are many young people who are having ...

The owner of a Connecticut pizzeria, accused of violating state child labor laws by having his kids work in the restaurant, is suing the state on grounds the laws violate his constitutional rights. I...

This animation drawing alone is enough reason to watch this video, even if you have no interest in the topic. It's amazing... FTV: "As long as the task involved used only mechanical skill... the h...

In the future, will you look back, shake your head, and regret that you didn't follow your passions? Feel that you went against who you really wanted to be? Don't wait until another New Year's Eve -...
FTA: "U.S. colleges and universities, like their counterparts in other Western countries, are doing a poor job of preparing graduates for today's workplace. The biggest weakness in the postsecondary-...

People continue to be laid-off from their jobs. Automation is increasing. Things made by hand are decreasing. The costs to produce (copy) some items is very close to zero (e.g., music and books)....

Advert for 'reliable workers' banned as discrimination by Jobcentre Plus The boss of a recruitment firm said she was told she could not place an advert for "reliable workers" because it discrimina...
About braincrave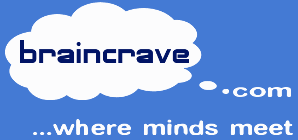 relationships/dating/braincrave
https://braincrave.com/c/relationships/dating/braincrave
braincrave
We all admire beauty, but the mind ultimately must be stimulated for maximum arousal. Longevity in relationships cannot occur without a meeting of the minds. And that is what Braincrave is: a dating venue where minds meet. Learn about the thoughts of your potential match on deeper topics... topics that spawn your own insights around what you think, the choices you make, and the actions you take.
We are a community of men and women who seek beauty and stimulation through our minds. We find ideas, education, and self-improvement sexy. We think intelligence is hot. But Braincrave is more than brains and I.Q. alone. We are curious. We have common sense. We value and offer wisdom. We experiment. We have great imaginations. We devour literacy. We are intellectually honest. We support and encourage each other to be better.
You might be lonely but you aren't alone.
Sep, 2017 update: Although Braincrave resulted in two confirmed marriages, the venture didn't meet financial targets. Rather than updating our outdated code base, we've removed all previous dating profiles and retained the articles that continue to generate interest. Moving to valME.io's platform supports dating profiles (which you are welcome to post) but won't allow typical date-matching functionality (e.g., location proximity, attribute similarity).
The Braincrave.com discussion group on Second Life was a twice-daily intellectual group discussions typically held at 12:00 PM SLT (PST) and 7:00 PM SLT. The discussions took place in Second Life group chat but are no longer formally scheduled or managed. The daily articles were used to encourage the discussions.