Home

/

The enemy to slay in a constant state of emergency

0



Ron Paul famously said of neocons:
The neoconservative ethos, steeped in the teachings of Leo Strauss, cannot abide an America where individuals simply pursue their happy, peaceful, prosperous lives. It cannot abide an America where society centers around family, religion or civic and social institutions rather than an all-powerful central state. There is always an enemy to slay, whether communist or terrorist. In the neoconservative vision, a constant state of alarm must be fostered among the people to keep them focused on something greater than themselves, namely their great protector - the state. This is why the neoconservative reaction to Wikileaks revelations is so predictable. They say, 'See, we told you, the world is a dangerous place,' so goes their claim. 'We must prosecute or even assassinate those responsible for publishing the leaks. Then we must redouble our efforts to police the world by spying and meddling better with no more leaks,' so they say.
Perhaps that's something to ponder as we consider why Obama has just reauthorized Bush's "national emergency" order for its 10th year. Ron Paul might be right. There might be an "enemy to slay." But are we focused on the wrong enemy?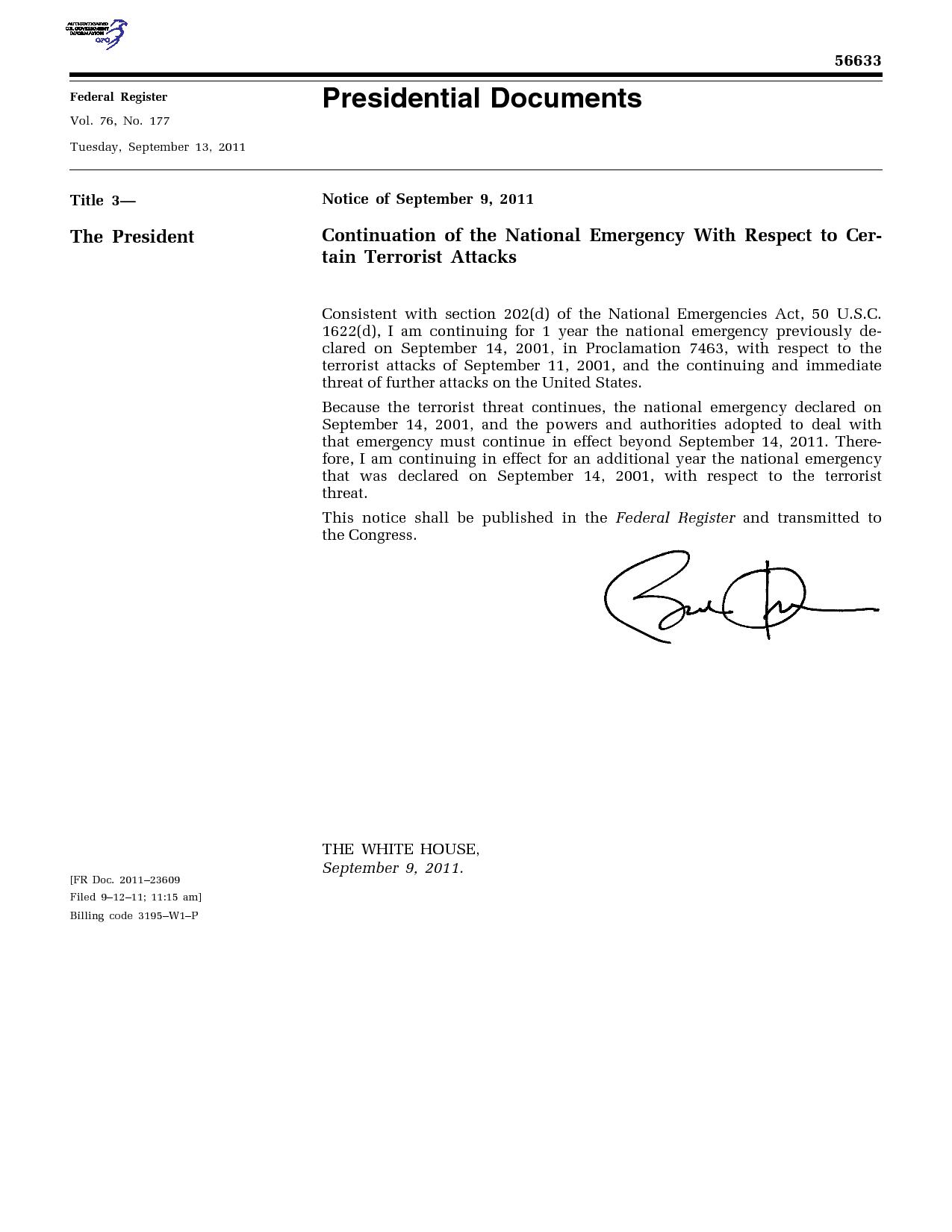 Presidential Documents

Notice of September 9, 2011

Continuation of the National Emergency With Respect to Certain Terrorist Attacks

Consistent with section 202(d) of the National Emergencies Act, 50 U.S.C. 1622(d), I am continuing for 1 year the national emergency previously declared on September 14, 2001, in Proclamation 7463, with respect to the terrorist attacks of September 11, 2001, and the continuing and immediate threat of further attacks on the United States. Because the terrorist threat continues, the national emergency declared on September 14, 2001, and the powers and authorities adopted to deal with that emergency must continue in effect beyond September 14, 2011. Therefore, I am continuing in effect for an additional year the national emergency that was declared on September 14, 2001, with respect to the terrorist threat. This notice shall be published in the Federal Register and transmitted to the Congress.

Barack Obama
Continuation of the National Emergency With Respect to Certain Terrorist Attacks
DISCUSS!
Original posting by Braincrave Second Life staff on Sep 16, 2011 at http://www.braincrave.com/viewblog.php?id=644
About braincrave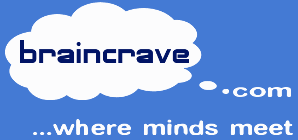 relationships/dating/braincrave
https://braincrave.com/c/relationships/dating/braincrave
braincrave
We all admire beauty, but the mind ultimately must be stimulated for maximum arousal. Longevity in relationships cannot occur without a meeting of the minds. And that is what Braincrave is: a dating venue where minds meet. Learn about the thoughts of your potential match on deeper topics... topics that spawn your own insights around what you think, the choices you make, and the actions you take.
We are a community of men and women who seek beauty and stimulation through our minds. We find ideas, education, and self-improvement sexy. We think intelligence is hot. But Braincrave is more than brains and I.Q. alone. We are curious. We have common sense. We value and offer wisdom. We experiment. We have great imaginations. We devour literacy. We are intellectually honest. We support and encourage each other to be better.
You might be lonely but you aren't alone.
Sep, 2017 update: Although Braincrave resulted in two confirmed marriages, the venture didn't meet financial targets. Rather than updating our outdated code base, we've removed all previous dating profiles and retained the articles that continue to generate interest. Moving to valME.io's platform supports dating profiles (which you are welcome to post) but won't allow typical date-matching functionality (e.g., location proximity, attribute similarity).
The Braincrave.com discussion group on Second Life was a twice-daily intellectual group discussions typically held at 12:00 PM SLT (PST) and 7:00 PM SLT. The discussions took place in Second Life group chat but are no longer formally scheduled or managed. The daily articles were used to encourage the discussions.