As proud supporters of Creative Commons, we were encouraged to see so many websites effectively shut down or "go dark" on January 18, 2012 in protest of the tyrannical SOPA/PIPA bills that the US gov...

Ron Paul famously said of neocons: The neoconservative ethos, steeped in the teachings of Leo Strauss, cannot abide an America where individuals simply pursue their happy, peaceful, prosperous l...

Obama has broken many promises. That's par for the course when you're a politician. People know (and sadly accept) that politicians aren't going to do everything they promise. But then there are m...

Today I learned Albert Einstein supported a one-world government and was a Socialist. Einstein's passionate commitment to the cause of global peace led him to support the creation of a single, u...

When it comes to protecting civil liberties, it just keeps getting worse. The US Department of Homeland Security (DHS) is now testing what it calls Future Attribute Screening Technology (FAST). It i...

Former NSA employee Thomas Drake has a wife and 5 sons, one of whom has significant health problems. But, understanding the risks to him and his family, he couldn't remain silent and be complicit in...

In light of the claim that Osama bin Laden has now been killed, we thought it might be a good idea to remind everyone of George Orwell's famous character in the novel 1984: Emmanuel Goldstein....

Let this sink in for a moment: the United States has the highest prisoner population rate in the world. That's right, even more than China. (And, no - that doesn't include all of the hidden prisons i...

There's an old Russian political joke where an American and a Soviet car salesmen are arguing about who makes better cars. The American asks: "How many decades does an average Soviet man need to work...

The US government consists of a bunch of hypocrites. I know, tell you something you don't know, right? Recently, Hillary Clinton and her lackeys at the US State Department released the Country Re...

In his famous statement "First they came," Pastor Martin Niemöller once blasted the inactivity of German intellectuals following the Nazi rise to power as they purged group after group: THEY CAME...

Government - they are experts at manipulating people. They even have a scary-sounding name for it: "psy-ops." What happens when they turn against their own? The psychological thriller The Manchurian...

From the "you can't make this shit up" files... Through one of her villains, Ayn Rand wrote in Atlas Shrugged: "Did you really think that we want those laws to be observed? ...We want them broken......

To claim that the US supports freedom (i.e., the absence of physical coercion) is nonsensical. Everything the US government does is anti-freedom. Take the situation in Egypt, for example. American ad...

Meanwhile, as Bradley Manning (aka "unappreciated hero #1") languishes in jail and is tortured by Obama's administration... There's an adage that goes "give to a good man all the powers he requests t...

To paraphrase Pastor Martin Niemöller, "They came first for Wikileaks. But I didn't speak up because I hated politics. Then they came for pornography. But I didn't speak up because I didn't look at...

No, they aren't Nazi concentration camps. But they are similar (and very similar to when the US government rounded up 120,000 Americans citizens of Japanese descent during WWII, an action with which...

We are social beings. As a result, depending on how much you value the opinions of others, what someone says about you can matter. Often, you've likely heard people negatively labeled as fringe cons...

Milton Friedman, the originator of the withholding tax, once said "we're all Keynesians now" (referring to the disastrous economic policies promoted by John Maynard Keynes). More recently, Newsweek (...

In case you haven't heard, the US Totally Stupid Administration (aka TSA) has deployed Advanced Imaging Technology (AIT) body scanners at many airports that produce radiation to scan your body for po...

There is enough evidence now to implicate the US government of a massive cover-up of 9/11. At this point, it's ignorant to claim otherwise. Yet, the only ones who suffer from the terrible events of 9...

Bill Clinton was impeached for lying about getting a blow job. But here we have President Obama, a constitutional lawyer and professor, who is technically now a dictator without anyone calling for im...

Pastor Martin Niemöller criticized German intellectuals because they did nothing as the Nazis rose to power and eliminated anti-government groups. Please, learn from history. Please, don't ignore th...

In the movie Braveheart, William Wallace says, "Every man dies, not every man really lives." For thousands of years, people have thought about the values to live for. Aristotle suggest we should live...

More and more, schools are adopting zero-tolerance policies. High schools are now filled with armed police, metal detectors, and drug-sniffing dogs. Is that the environment in which children can pro...

Is it ironic that this is published in a UK newspaper? Not so long ago, police used to be called "peace officers." Keeping the peace and initiating violence are contradictions. Wasn't police abuse in...

In Atlas Shrugged, Dr. Floyd Ferris states: "Did you really think that we want those laws to be observed? ...We want them broken... We're after power and we mean it... There's no way to rule innocent...

Why is the US government trying to pass a law that creates a "kill switch" to shut down the Internet at its whim? What are they preparing for? What is it that is about to happen? FTA: "A new U.S....

Ex-Harvard professor and now Obama's information czar Cass Sunstein previously wanted to "ban conspiracy theorizing" and "impose some kind of tax, financial or otherwise, on those who disseminate suc...

Talk about creating an atmosphere of fear... FTA: "It was meant to be an imaginative way of hammering home the message that some householders are making life too easy for burglars. But police were un...

The so-called rule of law in the US is a big joke. You really need more proof? Dick Cheney, former vice president to George Bush, went on TV on Feb 14 to assert he is "a big supporter of waterboardin...
A few snippets from a brilliant article: FTA: 'There is a long and sordid tradition of trying to socialise children by scaring them. The aim of such socialisation-through-fear is twofold: firstly,...
About braincrave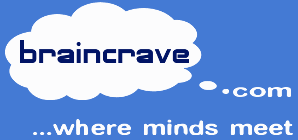 relationships/dating/braincrave
https://braincrave.com/c/relationships/dating/braincrave
braincrave
We all admire beauty, but the mind ultimately must be stimulated for maximum arousal. Longevity in relationships cannot occur without a meeting of the minds. And that is what Braincrave is: a dating venue where minds meet. Learn about the thoughts of your potential match on deeper topics... topics that spawn your own insights around what you think, the choices you make, and the actions you take.
We are a community of men and women who seek beauty and stimulation through our minds. We find ideas, education, and self-improvement sexy. We think intelligence is hot. But Braincrave is more than brains and I.Q. alone. We are curious. We have common sense. We value and offer wisdom. We experiment. We have great imaginations. We devour literacy. We are intellectually honest. We support and encourage each other to be better.
You might be lonely but you aren't alone.
Sep, 2017 update: Although Braincrave resulted in two confirmed marriages, the venture didn't meet financial targets. Rather than updating our outdated code base, we've removed all previous dating profiles and retained the articles that continue to generate interest. Moving to valME.io's platform supports dating profiles (which you are welcome to post) but won't allow typical date-matching functionality (e.g., location proximity, attribute similarity).
The Braincrave.com discussion group on Second Life was a twice-daily intellectual group discussions typically held at 12:00 PM SLT (PST) and 7:00 PM SLT. The discussions took place in Second Life group chat but are no longer formally scheduled or managed. The daily articles were used to encourage the discussions.