We all have previously learned about the Great Flu Pandemic of 1918, which killed between 20-40 million people worldwide in our history classes. Now with the advance of modern molecular biology techn...

Ron Paul famously said of neocons: The neoconservative ethos, steeped in the teachings of Leo Strauss, cannot abide an America where individuals simply pursue their happy, peaceful, prosperous l...

In light of the claim that Osama bin Laden has now been killed, we thought it might be a good idea to remind everyone of George Orwell's famous character in the novel 1984: Emmanuel Goldstein....

The US government consists of a bunch of hypocrites. I know, tell you something you don't know, right? Recently, Hillary Clinton and her lackeys at the US State Department released the Country Re...

"America's leading leftist intellectual" and MIT professor Noam Chomsky once remarked that "The U.S. is a leading terrorist state, as are its clients." He has said "that there is no War on Terror." H...

No, they aren't Nazi concentration camps. But they are similar (and very similar to when the US government rounded up 120,000 Americans citizens of Japanese descent during WWII, an action with which...

The cover-up of the Iraq war is significant. Whereas many of us suspected it, WikiLeaks has provided the facts to support the truth. And the truth is - the US government has been lying to everyone (a...

There is enough evidence now to implicate the US government of a massive cover-up of 9/11. At this point, it's ignorant to claim otherwise. Yet, the only ones who suffer from the terrible events of 9...

In his prophetic novel 1984, George Orwell described a facecrime: "It was terribly dangerous to let your thoughts wander when you were in any public place or within range of a telescreen. The smalles...

Bill Clinton was impeached for lying about getting a blow job. But here we have President Obama, a constitutional lawyer and professor, who is technically now a dictator without anyone calling for im...

Pastor Martin Niemöller criticized German intellectuals because they did nothing as the Nazis rose to power and eliminated anti-government groups. Please, learn from history. Please, don't ignore th...

In 1991, John Taylor Gatto, New York City Teacher of the Year (1989, 1990, and 1991), New York State Teacher of the Year (1991), and author of The Underground History of American Education, wrote the...

Will someone please remind me again why the Europeans and Americans are at war with Iraq and Afghanistan, killing anywhere from hundreds of thousands of people to, by some estimates, over 1 million?...

Guess you can't call them hypocrites for this particular action, unlike most liberals who railed against Bush but now ignore the fact that Obama has continued with (and gone beyond) Bush's anti-ter...

Newton's Third Law suggests that for every action there is an equal and opposite reaction. Is it morally proper for people to develop into militias to defend themselves and act in defiance of terrori...

WikiLeaks has released a classified US military video depicting the indiscriminate slaying of over a dozen people in the Iraqi suburb of New Baghdad - including two Reuters news staff. FTA: "The impo...

The US government and NATO forces are a bunch of murderers. Like Dick Cheney, who goes on national television to rub in our faces that he authorized and sanctioned torture of innocent people knowing...

A thousand architects and engineers want to know how 3 World Trade Center skyscrapers suddenly disintegrate into fine dust. how did massive steel beams suddenly fail as a result of short-lived, isola...

Today, a man committed suicide by flying his plane into an IRS office. I think this is only the beginning of more to come. The IRS has been terrorizing people illegally for decades. The courts and mi...

Jesse Ventura did his latest conspiracy theory show on 9/11, something that's been a passion of his since the event. I've followed his interviews over the years and know he knows substantially more t...

Which do you consider more delusional: flying a plane into a government building in retaliation of government abuse or believing that the government exists to protect your individual rights? If yo...
About braincrave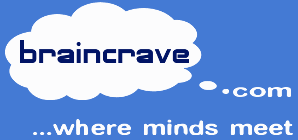 relationships/dating/braincrave
https://braincrave.com/c/relationships/dating/braincrave
braincrave
We all admire beauty, but the mind ultimately must be stimulated for maximum arousal. Longevity in relationships cannot occur without a meeting of the minds. And that is what Braincrave is: a dating venue where minds meet. Learn about the thoughts of your potential match on deeper topics... topics that spawn your own insights around what you think, the choices you make, and the actions you take.
We are a community of men and women who seek beauty and stimulation through our minds. We find ideas, education, and self-improvement sexy. We think intelligence is hot. But Braincrave is more than brains and I.Q. alone. We are curious. We have common sense. We value and offer wisdom. We experiment. We have great imaginations. We devour literacy. We are intellectually honest. We support and encourage each other to be better.
You might be lonely but you aren't alone.
Sep, 2017 update: Although Braincrave resulted in two confirmed marriages, the venture didn't meet financial targets. Rather than updating our outdated code base, we've removed all previous dating profiles and retained the articles that continue to generate interest. Moving to valME.io's platform supports dating profiles (which you are welcome to post) but won't allow typical date-matching functionality (e.g., location proximity, attribute similarity).
The Braincrave.com discussion group on Second Life was a twice-daily intellectual group discussions typically held at 12:00 PM SLT (PST) and 7:00 PM SLT. The discussions took place in Second Life group chat but are no longer formally scheduled or managed. The daily articles were used to encourage the discussions.