From the only honest person in American politics - Ron Paul... FTA: "Lately many have characterized this administration as socialist, or having strong socialist leanings. I differ with this character...

Norman Mattoon Thomas was a leading American socialist, pacifist, and six-time presidential candidate for the Socialist Party of America. The Socialist Party candidate for President of the U.S., he i...

An economics professor at a local college made a statement that he had never failed a single student before but had once failed an entire class. That class had insisted that socialism worked and that...

Previously, Anna Victoria, who lives under the terror of socialist Hugo Chavez, facilitated a great discussion on demagoguery back on Nov 30 (http://www.braincrave.com/viewblog.php?id=17). Look now w...
For all the socialists in the group, you'll love this one. Thou SHALT shoplift: Priest tells congregation it's better than robbery or prostitution. Of course, you all agree with his advice, correct?...

As those of you in the US enjoy the holiday, thought you might want to learn about the true story of thanksgiving - this might make some interesting conversation around the dinner table... it's calle...

For too long, our society has been tainted by this adage... this taboo of good things. Why, oh why, is this? A product of our psyche? A product of shared cultural values? Or, is it really undeniably...
About braincrave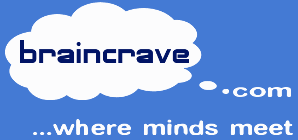 relationships/dating/braincrave
https://braincrave.com/c/relationships/dating/braincrave
braincrave
We all admire beauty, but the mind ultimately must be stimulated for maximum arousal. Longevity in relationships cannot occur without a meeting of the minds. And that is what Braincrave is: a dating venue where minds meet. Learn about the thoughts of your potential match on deeper topics... topics that spawn your own insights around what you think, the choices you make, and the actions you take.
We are a community of men and women who seek beauty and stimulation through our minds. We find ideas, education, and self-improvement sexy. We think intelligence is hot. But Braincrave is more than brains and I.Q. alone. We are curious. We have common sense. We value and offer wisdom. We experiment. We have great imaginations. We devour literacy. We are intellectually honest. We support and encourage each other to be better.
You might be lonely but you aren't alone.
Sep, 2017 update: Although Braincrave resulted in two confirmed marriages, the venture didn't meet financial targets. Rather than updating our outdated code base, we've removed all previous dating profiles and retained the articles that continue to generate interest. Moving to valME.io's platform supports dating profiles (which you are welcome to post) but won't allow typical date-matching functionality (e.g., location proximity, attribute similarity).
The Braincrave.com discussion group on Second Life was a twice-daily intellectual group discussions typically held at 12:00 PM SLT (PST) and 7:00 PM SLT. The discussions took place in Second Life group chat but are no longer formally scheduled or managed. The daily articles were used to encourage the discussions.