Today I learned that Vincent van Gogh sold only one painting in his lifetime, The Red Vineyard, for 400 Francs (about US$1,600). It is now considered to be one of the most valuable paintings in the w...

We experience art as an emotional reaction to our senses. Enjoying art has a personal meaning and relevance; therefore, we evaluate art differently depending upon our own values, perceptions, and kno...

Many artists are concerned about copying, especially in the online world. It's a significant problem in Second Life where copybots can copy an artist's/owner's content without their permission. This...

Some claim that the reason music piracy is so prevalent is because the cost of music is so high (especially when the actual CD production costs are so low - a cursory look suggests it's less than $0....

At one time in history, even Leonardo da Vinci himself had to pen a resume to explain why he was a qualified applicant. Here's a translation of his letter to the Duke of Milan, enumerating his many t...

There are different forms of intelligence. Creativity and artistic abilities are excellent indicators of intelligence. But earning a living as an artist is difficult, especially given today's economi...

Who I am ain't nothing of what I am. Who I am, is who you see. Who you see isn't anything of what is me. I am me because I choose to be I am me Because I choose to be. I be...

For too long, our society has been tainted by this adage... this taboo of good things. Why, oh why, is this? A product of our psyche? A product of shared cultural values? Or, is it really undeniably...

Our mother... the dawn of man Our mother Climb my eye upon her many breasts. Succulent are her up most tops. White mothers milk, Which gives us life, Pouring upon her belly...
About braincrave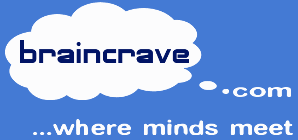 relationships/dating/braincrave
https://braincrave.com/c/relationships/dating/braincrave
braincrave
We all admire beauty, but the mind ultimately must be stimulated for maximum arousal. Longevity in relationships cannot occur without a meeting of the minds. And that is what Braincrave is: a dating venue where minds meet. Learn about the thoughts of your potential match on deeper topics... topics that spawn your own insights around what you think, the choices you make, and the actions you take.
We are a community of men and women who seek beauty and stimulation through our minds. We find ideas, education, and self-improvement sexy. We think intelligence is hot. But Braincrave is more than brains and I.Q. alone. We are curious. We have common sense. We value and offer wisdom. We experiment. We have great imaginations. We devour literacy. We are intellectually honest. We support and encourage each other to be better.
You might be lonely but you aren't alone.
Sep, 2017 update: Although Braincrave resulted in two confirmed marriages, the venture didn't meet financial targets. Rather than updating our outdated code base, we've removed all previous dating profiles and retained the articles that continue to generate interest. Moving to valME.io's platform supports dating profiles (which you are welcome to post) but won't allow typical date-matching functionality (e.g., location proximity, attribute similarity).
The Braincrave.com discussion group on Second Life was a twice-daily intellectual group discussions typically held at 12:00 PM SLT (PST) and 7:00 PM SLT. The discussions took place in Second Life group chat but are no longer formally scheduled or managed. The daily articles were used to encourage the discussions.