Winning people's hearts and minds through ideas is one way to affect change, but it's a very, very slow process. Most would consider it "impractical." For those who want to implement change quicker,...

Sometimes it seems that the worse things get, the more we tolerate. It's not that we become impartial to a particular wrong, but it does seem that we often "sit on the fence" when we see wrongdoing....

In his famous statement "First they came," Pastor Martin Niemöller once blasted the inactivity of German intellectuals following the Nazi rise to power as they purged group after group: THEY CAME...

Sometimes you have to wonder if the sole reason that the law requires children go to school is because very few would go if not forced. If schools are intended to give children training as to the wor...

In his famous treatise On the Duty of Civil Disobedience, Henry David Thoreau argued that individuals can promote justice by disobeying the law. History is replete with examples of civil disobedience...

While hero Bradley Manning rots in solitary confinement, most are now aware that Wikileaks has courageously released 250,000 secret diplomacy documents which provide candid and critical views of US...

As we consider the ramifications of WikiLeak's courageous action to provide us truth about the Iraq war, it is useful to also consider how poorly the mainstream media has served us and the pursuit of...

The cover-up of the Iraq war is significant. Whereas many of us suspected it, WikiLeaks has provided the facts to support the truth. And the truth is - the US government has been lying to everyone (a...

There is enough evidence now to implicate the US government of a massive cover-up of 9/11. At this point, it's ignorant to claim otherwise. Yet, the only ones who suffer from the terrible events of 9...

The purported anti-war left used to scream about the wars when Bush ruled. When Obama became ruler, they went silent (for the most part). After all, it's only unjustified violence and murder when the...

According to the Society of Professional Journalists, journalism is about providing "information in an accurate, comprehensive, timely and understandable manner." Sadly, in the mainstream media, jour...

In 1971, Daniel Ellsberg leaked the Pentagon Papers to the New York Times. They destroyed the government's credibility in the Vietnam War by revealing that the US government had intentionally misled...

Did you know that politicians in New York City have tried to play-up crime statistics showing that crime was down? It's becoming clear that it appeared as such because the statistics were faked. FTA:...

A Guantanamo Bay sergeant is blowing the whistle on US government torture and murder and the US Department of Justice is blatantly covering it up. This amazing Harper's article is a chilling account...
About braincrave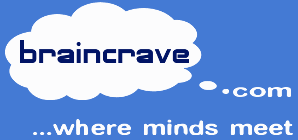 relationships/dating/braincrave
https://braincrave.com/c/relationships/dating/braincrave
braincrave
We all admire beauty, but the mind ultimately must be stimulated for maximum arousal. Longevity in relationships cannot occur without a meeting of the minds. And that is what Braincrave is: a dating venue where minds meet. Learn about the thoughts of your potential match on deeper topics... topics that spawn your own insights around what you think, the choices you make, and the actions you take.
We are a community of men and women who seek beauty and stimulation through our minds. We find ideas, education, and self-improvement sexy. We think intelligence is hot. But Braincrave is more than brains and I.Q. alone. We are curious. We have common sense. We value and offer wisdom. We experiment. We have great imaginations. We devour literacy. We are intellectually honest. We support and encourage each other to be better.
You might be lonely but you aren't alone.
Sep, 2017 update: Although Braincrave resulted in two confirmed marriages, the venture didn't meet financial targets. Rather than updating our outdated code base, we've removed all previous dating profiles and retained the articles that continue to generate interest. Moving to valME.io's platform supports dating profiles (which you are welcome to post) but won't allow typical date-matching functionality (e.g., location proximity, attribute similarity).
The Braincrave.com discussion group on Second Life was a twice-daily intellectual group discussions typically held at 12:00 PM SLT (PST) and 7:00 PM SLT. The discussions took place in Second Life group chat but are no longer formally scheduled or managed. The daily articles were used to encourage the discussions.