Aristotle spoke of music as having "influence over the character and the soul." He noted that "Rhythm and melody supply imitations of anger and gentleness, and also of courage and temperance, and of...

Make everyone equal. It is a common battle cry across the centuries. Just look at the current class warfare that Obama is pushing because we are not all equal. (Or, as Orwell famously put it in Anima...

On a cold January morning in 2007, a man played six Bach pieces on his violin for 43 minutes as about 1,000 people passed by. He started with one of the most difficult violin pieces in the world to m...

In her interview with Playboy, Ayn Rand stated "My views on charity are very simple. I do not consider it a major virtue and, above all, I do not consider it a moral duty. There is nothing wrong in h...

Some claim that the reason music piracy is so prevalent is because the cost of music is so high (especially when the actual CD production costs are so low - a cursory look suggests it's less than $0....

After providing $900 billion in "stimulus" with zero (and some would argue negative) impact on the economy, increasing the national debt by over $2 trillion (in slightly over 1 year, and it continues...

Jerry Garcia is famous for saying "And as far as I'm concerned, it's like I say, drugs are not the problem. Other stuff is the problem." As the lawyers at the RIAA claim that copyright law "isn't wor...

Is music lobotomizing the brains of youth? Is it purposefully making them "retarded in here?" And if you start singing Black Eyed Peas songs through the end of the day, it's not my fault. FTA: "Ha...

So here's my story of how I fell in love with jazz. Sitting at home years ago, bored to tears, I see this video come on called "Two Shots" by Matt Dusk. "Who the hell is this and where has he been...
About braincrave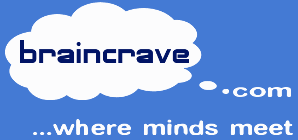 relationships/dating/braincrave
https://braincrave.com/c/relationships/dating/braincrave
braincrave
We all admire beauty, but the mind ultimately must be stimulated for maximum arousal. Longevity in relationships cannot occur without a meeting of the minds. And that is what Braincrave is: a dating venue where minds meet. Learn about the thoughts of your potential match on deeper topics... topics that spawn your own insights around what you think, the choices you make, and the actions you take.
We are a community of men and women who seek beauty and stimulation through our minds. We find ideas, education, and self-improvement sexy. We think intelligence is hot. But Braincrave is more than brains and I.Q. alone. We are curious. We have common sense. We value and offer wisdom. We experiment. We have great imaginations. We devour literacy. We are intellectually honest. We support and encourage each other to be better.
You might be lonely but you aren't alone.
Sep, 2017 update: Although Braincrave resulted in two confirmed marriages, the venture didn't meet financial targets. Rather than updating our outdated code base, we've removed all previous dating profiles and retained the articles that continue to generate interest. Moving to valME.io's platform supports dating profiles (which you are welcome to post) but won't allow typical date-matching functionality (e.g., location proximity, attribute similarity).
The Braincrave.com discussion group on Second Life was a twice-daily intellectual group discussions typically held at 12:00 PM SLT (PST) and 7:00 PM SLT. The discussions took place in Second Life group chat but are no longer formally scheduled or managed. The daily articles were used to encourage the discussions.