As many mourn the death of Apple founder Steve Jobs, they use words such as visionary, brilliant, innovative, leader, entrepreneur, capitalist, and philanthropic to describe him. Many aren't aware th...

Make everyone equal. It is a common battle cry across the centuries. Just look at the current class warfare that Obama is pushing because we are not all equal. (Or, as Orwell famously put it in Anima...

Ayn Rand once wrote that "Definitions are the guardians of rationality, the first line of defense against the chaos of mental disintegration." Perhaps that's one of the reasons politics always appear...

Politics are a disgusting abyss of failed attempts to legislate morality. But why is it like that? Perhaps one of the primary reasons is because people can't seem to agree on what morality is; or, mo...

There's an adage that goes: if you've got enemies, it means you stood up for something in life. Out of all of the potential philosophies that you could adopt in your life, perhaps none may be more co...

Why aren't liberals abandoning Obama when he does the same things for which they screamed at Bush (e.g., indefinite detention at Guantanamo, approving torture)? Because they have nowhere else to go....

A few months ago, I was discussing certain aspects of quantum mechanics with somebody. I got around to saying that certain claims within the realm of physics can be rejected outright on philosophical...

John Adams once wrote "Government is instituted for the common good; for the protection, safety, prosperity, and happiness of the people; and not for profit, honor, or private interest of any one man...

Our current culture appears to revolve more around "dos and don'ts," which is to suggest that society appears more focused on rules of what you are and aren't allowed to do. With that premise, perha...

Morality is about determining which choices and actions are good or bad, which always leads to the question - what is the good? There are some who consider the good as those choices and actions which...

There's a funny sign that reads: "Confused Socialist Party. Smash capitalism! Then blog about it on your $2500 Macbook." All of the major economies in the world are known as mixed economies. You migh...

Ayn Rand warned us. She did it in her books such as Atlas Shrugged (and, to a certain extent, >The Fountainhead). She did it on TV such as in this famous interview between her and Mike Wallace on...

Today I Learned that moral principles are not determined by majority vote. FTA: "A majority vote is not an epistemological validation of an idea. Voting is merely a proper political device within...

Although it's impossible to define it with objective standards, the concept of the "common good" is directly linked with "society" and the "majority." Which is better for humanity and should take pre...

Noam Chomsky said Ayn Rand was "... one of the most evil figures of modern intellectual history." Yet I find Atlas Shrugged an amazing book (and so do many others, like the man who recently drove aro...

My daughter just came back from camp and, as we were discussing all of her wonderful experiences, she mentioned that she bought a "happy book" at the camp store. You list all the things that make you...

Philosophy is effectively the study of the fundamental, universal principles of existence. Are we ignoring both reality and philosophy when we claim that universal principals don't exist (e.g., that...

BrainCrave.com Book Club starting now. We will attempt to do this in group chat unless there is significant lag. If so, we'll switch to local. Please join us at Within Ten Years http://www.braincr...

Men have been taught that the highest virtue is not to achieve, but to give. Yet one cannot give that which has not been created. Creation comes before distribution - or there will be nothing to dist...

In the name of the best within you, do not sacrifice this world to those who are its worst. In the name of the values that keep you alive, do not let your vision of man be distorted by the ugly, the...

If I had a nickel for every time someone said to me that I'm too black-or-white, I'd be a rich man. It usually comes up in conversation with anyone that I've known longer than 30 minutes. I even had...

Who's Ayn Rand?? Only one of the most well-known and life-changing philosophers out there. Her philosophy is unlike any most have ever read. It's philosophy mixed in with drama and lots of great sex....

I'm a month late on this, for the spotlight of public attention, but I have an Ayn Rand story, too. 11 years ago I blind-pitched Wired magazine an ill-defined article on Rand. In response, they asked...

Though I understand that www.braincrave.com and The Atlasphere are technically competitors, at a higher level of abstraction, their goals overlap. This is a brilliant video that discusses some of the...
About braincrave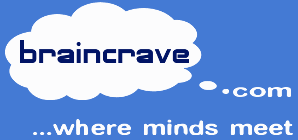 relationships/dating/braincrave
https://braincrave.com/c/relationships/dating/braincrave
braincrave
We all admire beauty, but the mind ultimately must be stimulated for maximum arousal. Longevity in relationships cannot occur without a meeting of the minds. And that is what Braincrave is: a dating venue where minds meet. Learn about the thoughts of your potential match on deeper topics... topics that spawn your own insights around what you think, the choices you make, and the actions you take.
We are a community of men and women who seek beauty and stimulation through our minds. We find ideas, education, and self-improvement sexy. We think intelligence is hot. But Braincrave is more than brains and I.Q. alone. We are curious. We have common sense. We value and offer wisdom. We experiment. We have great imaginations. We devour literacy. We are intellectually honest. We support and encourage each other to be better.
You might be lonely but you aren't alone.
Sep, 2017 update: Although Braincrave resulted in two confirmed marriages, the venture didn't meet financial targets. Rather than updating our outdated code base, we've removed all previous dating profiles and retained the articles that continue to generate interest. Moving to valME.io's platform supports dating profiles (which you are welcome to post) but won't allow typical date-matching functionality (e.g., location proximity, attribute similarity).
The Braincrave.com discussion group on Second Life was a twice-daily intellectual group discussions typically held at 12:00 PM SLT (PST) and 7:00 PM SLT. The discussions took place in Second Life group chat but are no longer formally scheduled or managed. The daily articles were used to encourage the discussions.