Selfishness is often defined as an evil that deals with one caring for oneself more than for others. Many evils in the world are blamed on selfishness. Hunger, poverty and illness are supposedly all...

Have you ever seen posts on social networks where someone will say to all of her friends indiscriminately "I love you all!" or something to that effect? Well, if the Beatles were right, that all you...

She opens her heart. He opens his fly. That might be the immediate, superficial reaction to a Friends With Benefits (FWB) relationship. But is there more under the covers? FWB relationships (aka s...

No doubt about it - we humans have a strong desire for sexual intercourse. It certainly makes sense from an evolutionary perspective, as the desire helps further humanity. But some are programmed for...

Porn is like bacon: some won't eat it for religious reasons, some consider it filthy, some feel guilty after eating it, but everyone else (which is most of the population) loves it. Funny enough, sci...

Great news! Braincrave.com's first confirmed marriage! Just goes to show that online dating really does yield real results, including for those who like to think. To celebrate this amazing success...

Politics. Morality. Religion. Relationships. Even science. These are examples of the many categories in which you will find disagreements. These debates occur just as much with intelligent people as...

New to online dating? Trying to find the man or woman of your dreams through the virtual world? As in any relationship, proper communication is crucial. You need to have a good personal ad or dating...

Orson Welles once wrote: "We're born alone, we live alone, we die alone. Only through our love and friendship can we create the illusion for the moment that we're not alone." In addition to our daily...

Everyone's familiar with the expression "love at first sight." But is that really the way love works? According to a recent scientific study, the answer is yes. But what about romance? What about val...

Braincrave.com has been highlighted as one of the top 10 Cool Things to Do in Second Life for intellectual discussions! Of course, we're very honored and want to thank all of you who help us make...

It is claimed that women fake orgasms because of insecurities. But as women have a tremendous capacity for pleasure, perhaps men just aren't stimulating the right places. As scary as it might sound t...

We need a new demotivational poster: "Science. A quick way to mess-up all those great love poems." The definition of rational isn't very controversial: "having reason or understanding." The defini...

If you're a person who prefers the grayness of relativity to the "black or white" positions of an absolutist, ultimatums likely make you uncomfortable. But such is the nature of choices - selecting a...

Today I learned that Platonic love isn't what we thought it was. In fact, Plato didn't even believe in it, was pro-sex, thought erotica was a spiritual force that helps us find our true selves, and e...

We did. It's not every day that you meet people who encourage you to think deeply. You work so hard. You're running so fast. There is so much to do. And yet, you have more to offer. But wh...

There's a funny wedding tradition where the married couple eats the top layer of their wedding cake one year later. (How great to finally have the extra space in your freezer, right?) For about half...
About braincrave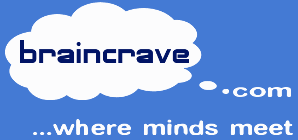 relationships/dating/braincrave
https://braincrave.com/c/relationships/dating/braincrave
braincrave
We all admire beauty, but the mind ultimately must be stimulated for maximum arousal. Longevity in relationships cannot occur without a meeting of the minds. And that is what Braincrave is: a dating venue where minds meet. Learn about the thoughts of your potential match on deeper topics... topics that spawn your own insights around what you think, the choices you make, and the actions you take.
We are a community of men and women who seek beauty and stimulation through our minds. We find ideas, education, and self-improvement sexy. We think intelligence is hot. But Braincrave is more than brains and I.Q. alone. We are curious. We have common sense. We value and offer wisdom. We experiment. We have great imaginations. We devour literacy. We are intellectually honest. We support and encourage each other to be better.
You might be lonely but you aren't alone.
Sep, 2017 update: Although Braincrave resulted in two confirmed marriages, the venture didn't meet financial targets. Rather than updating our outdated code base, we've removed all previous dating profiles and retained the articles that continue to generate interest. Moving to valME.io's platform supports dating profiles (which you are welcome to post) but won't allow typical date-matching functionality (e.g., location proximity, attribute similarity).
The Braincrave.com discussion group on Second Life was a twice-daily intellectual group discussions typically held at 12:00 PM SLT (PST) and 7:00 PM SLT. The discussions took place in Second Life group chat but are no longer formally scheduled or managed. The daily articles were used to encourage the discussions.