Today I learned the first PC virus was called "brain" and was written in DOS only 25 years ago in 1986. The creators of the virus even gave their address. How did it move from PC to PC? Floppy disks...
When it comes to online discussions, there's an adage called Godwin's law. It states that the longer an online discussion continues, "the probability of a comparison involving Nazis or Hitler approac...

Today I learned that Vincent van Gogh sold only one painting in his lifetime, The Red Vineyard, for 400 Francs (about US$1,600). It is now considered to be one of the most valuable paintings in the w...

It's interesting to trace the history of controversial subjects. Take political correctness for example. Political correctness, "used to describe language, ideas, policies, or behavior seen as seekin...

Today I learned condoms were originally made of linen and Casanova, the womanizer, called them "The English Overcoat." Who created the first colored condom? The Japanese, of course. (In other news, 8...

Today I learned which countries make up the United Kingdom (England, Scotland, Wales, and Northern Ireland), the difference between the United Kingdom (four countries) and Great Britain (England, Sco...

All economic goods must be produced by someone. They aren't gifts of nature or something that can be conjured up by waiving a magic wand. Somehow, people have gotten the false idea that it is governm...

The central figure in all of Christianity is one man: Jesus of Nazareth. Putting aside whether or not you believe that God exists, a key component to Christianity is that Jesus did exist. But what if...

Today I learned that tea parties were established in the 1830s. But if the Boston Tea Party was in 1773, why did they call it the Boston Tea Party? Answer - they didn't: the actually called it "The d...

As Thanksgiving rolls around to the US, children will be taught the false story of the first Thanksgiving (just one of many myths children are taught). The real story is a case study that teaches a v...

At one time in history, even Leonardo da Vinci himself had to pen a resume to explain why he was a qualified applicant. Here's a translation of his letter to the Duke of Milan, enumerating his many t...
About braincrave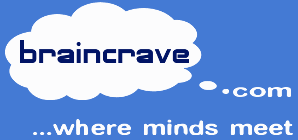 relationships/dating/braincrave
https://braincrave.com/c/relationships/dating/braincrave
braincrave
We all admire beauty, but the mind ultimately must be stimulated for maximum arousal. Longevity in relationships cannot occur without a meeting of the minds. And that is what Braincrave is: a dating venue where minds meet. Learn about the thoughts of your potential match on deeper topics... topics that spawn your own insights around what you think, the choices you make, and the actions you take.
We are a community of men and women who seek beauty and stimulation through our minds. We find ideas, education, and self-improvement sexy. We think intelligence is hot. But Braincrave is more than brains and I.Q. alone. We are curious. We have common sense. We value and offer wisdom. We experiment. We have great imaginations. We devour literacy. We are intellectually honest. We support and encourage each other to be better.
You might be lonely but you aren't alone.
Sep, 2017 update: Although Braincrave resulted in two confirmed marriages, the venture didn't meet financial targets. Rather than updating our outdated code base, we've removed all previous dating profiles and retained the articles that continue to generate interest. Moving to valME.io's platform supports dating profiles (which you are welcome to post) but won't allow typical date-matching functionality (e.g., location proximity, attribute similarity).
The Braincrave.com discussion group on Second Life was a twice-daily intellectual group discussions typically held at 12:00 PM SLT (PST) and 7:00 PM SLT. The discussions took place in Second Life group chat but are no longer formally scheduled or managed. The daily articles were used to encourage the discussions.