Thanks to the Land Destroyer blog for spotting this excellent analysis of what appears the next phase in false-flag interventionist propaganda -- the use of so-called "social media" with heavy celebr...

Government - they are experts at manipulating people. They even have a scary-sounding name for it: "psy-ops." What happens when they turn against their own? The psychological thriller The Manchurian...

No, they aren't Nazi concentration camps. But they are similar (and very similar to when the US government rounded up 120,000 Americans citizens of Japanese descent during WWII, an action with which...

As the adage goes: How do you know a politician is lying? His lips are moving. On Obama's White House website, he states: "My Administration is committed to creating an unprecedented level of opennes...

The cover-up of the Iraq war is significant. Whereas many of us suspected it, WikiLeaks has provided the facts to support the truth. And the truth is - the US government has been lying to everyone (a...

As we consider the ramifications of WikiLeak's courageous action to provide us truth about the Iraq war, it is useful to also consider how poorly the mainstream media has served us and the pursuit of...

You don't say? Hey Al Gore, what do you think? FTA: "A cross examination of global warming science conducted by the University of Pennsylvania's Institute for Law and Economics has concluded tha...

Today I learned that, unlike people or other corporations, Federal reserve bank stockholders don't have to pay federal, state,or local taxes on their annual, fixed dividends of 6% on capital stock (w...

We are social beings. As a result, depending on how much you value the opinions of others, what someone says about you can matter. Often, you've likely heard people negatively labeled as fringe cons...

Jesse Ventura did his latest conspiracy theory show on 9/11, something that's been a passion of his since the event. I've followed his interviews over the years and know he knows substantially more t...

Put on your tinfoil hats for this one. We recently saw that a country's government can easily and quickly shut down the internet. In a classic rope-a-dope, as Hillary Clinton babbles propaganda about...

Jerry Garcia is famous for saying "And as far as I'm concerned, it's like I say, drugs are not the problem. Other stuff is the problem." As the lawyers at the RIAA claim that copyright law "isn't wor...

Many artists are concerned about copying, especially in the online world. It's a significant problem in Second Life where copybots can copy an artist's/owner's content without their permission. This...

A thousand architects and engineers want to know how 3 World Trade Center skyscrapers suddenly disintegrate into fine dust. how did massive steel beams suddenly fail as a result of short-lived, isola...
In the movie Contact, Jodi Foster says "So if it's just us... seems like an awful waste of space." Do you believe that there is life outside of Earth? What are the implications for humanity if aliens...

FTA: "People prefer to be lied to ably, than be told the truth, boldly. We prefer a colorful and clever story to a documentary filled with sharp and damning evidence; we prefer gossip to investigatio...

There is enough evidence now to implicate the US government of a massive cover-up of 9/11. At this point, it's ignorant to claim otherwise. Yet, the only ones who suffer from the terrible events of 9...

Jesse Ventura, of wrestling, acting, and conspiracy theory fame, is disgusted with politics. (And anyone who isn't disgusting isn't sane.) So he's come up with some new ideas. What do you think el...
Wow - this is a great win (though I expect it will never make it through the appeal process). File-Sharing and Link Sites Declared Legal in Spain FTA: "After early calls to shut down a Spanish...

Some claim that the reason music piracy is so prevalent is because the cost of music is so high (especially when the actual CD production costs are so low - a cursory look suggests it's less than $0....
About braincrave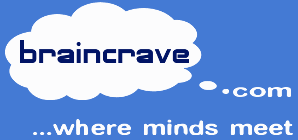 relationships/dating/braincrave
https://braincrave.com/c/relationships/dating/braincrave
braincrave
We all admire beauty, but the mind ultimately must be stimulated for maximum arousal. Longevity in relationships cannot occur without a meeting of the minds. And that is what Braincrave is: a dating venue where minds meet. Learn about the thoughts of your potential match on deeper topics... topics that spawn your own insights around what you think, the choices you make, and the actions you take.
We are a community of men and women who seek beauty and stimulation through our minds. We find ideas, education, and self-improvement sexy. We think intelligence is hot. But Braincrave is more than brains and I.Q. alone. We are curious. We have common sense. We value and offer wisdom. We experiment. We have great imaginations. We devour literacy. We are intellectually honest. We support and encourage each other to be better.
You might be lonely but you aren't alone.
Sep, 2017 update: Although Braincrave resulted in two confirmed marriages, the venture didn't meet financial targets. Rather than updating our outdated code base, we've removed all previous dating profiles and retained the articles that continue to generate interest. Moving to valME.io's platform supports dating profiles (which you are welcome to post) but won't allow typical date-matching functionality (e.g., location proximity, attribute similarity).
The Braincrave.com discussion group on Second Life was a twice-daily intellectual group discussions typically held at 12:00 PM SLT (PST) and 7:00 PM SLT. The discussions took place in Second Life group chat but are no longer formally scheduled or managed. The daily articles were used to encourage the discussions.